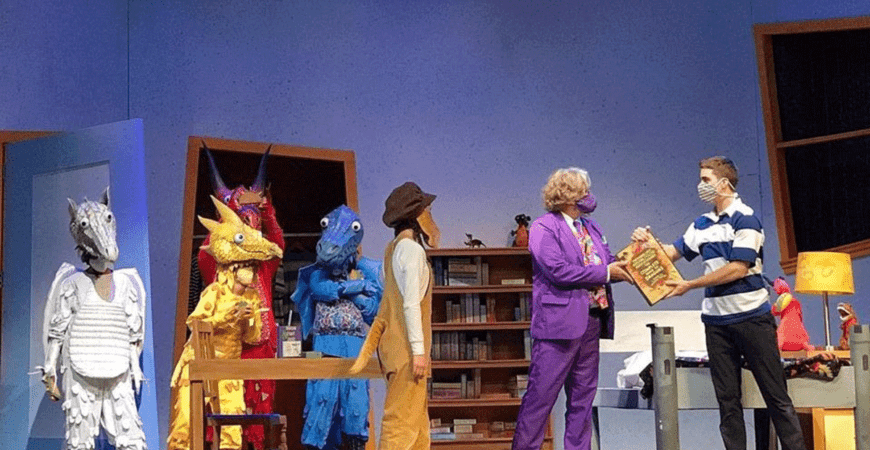 Dragons Love Tacos
Available for a LIMITED TIME to stream until May 31, 2021.
Stage adaptation by Ernie Nolan, produced by special arrangement with Plays for Young Audiences. Based on the book by Adam Rubin with illustrations by Daniel Salmieri, published by Penguin Group.
Recommended for ages 3 – 10
You know what dragons really love? Tacos of course! They love chicken tacos, beef tacos, great big tacos, and teeny tiny tacos. While a boy and his dog are watching TV, they unexpectedly learn the 'Do's and Dont's' of what kinds of tacos to serve dragons. Unfortunately, when the boy throws his new dragon friends a spicy salsa taco party, red-hot trouble ensues! Discover the dietary delights and dilemmas of dragons in this fun-filled production, adapted from The New York Times Best Selling book Dragons Love Tacos is a sizzling story full of fiery fun for your entire family!
If you are a Season Passholder to The Magik Theatre email us at info@magiktheatre.org to utilize your unused passes for a streaming code to view the production.
Download complimentary Resource Guide HERE.
__________________________________________________________________________
Pricing options for 72 hour access to stream video
Individual Streaming Pass – $15 (Reg. $16.50 to attend at the theatre)
Family of 2 – $25 (Reg. $33.00 to attend at the theatre)
Family of 4 – $40 (Reg. $66.00 to attend at the theatre)
Pay What You Can – (Minimum donation of $5, any amount donated would assist us to continue to bring more online content to the local community)

Magik would like to thank Union Pacific for their support of this online programming.