Bring live performances to YOU!
Magik Theatre is driven by the belief that theatre can be transformative. By seeing and participating in live performances, children learn to identify with others, build self-esteem, and develop confidence in their own abilities.
Magik on the Road provides fun, live performances of high-quality shows to young audiences!
Reserve today!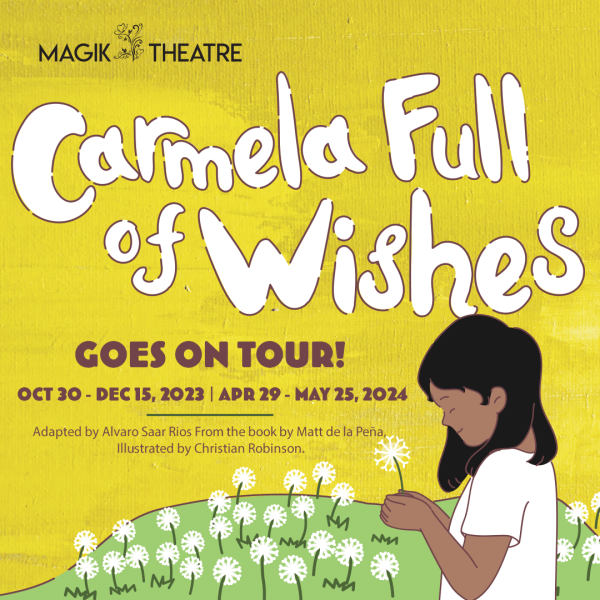 ABOUT Carmela Full of Wishes
Adapted by Alvaro Saar Rios from the book by Matt de la Peña
Illustrated by Christian Robinson
Carmela Full of Wishes is a hopeful play based on the acclaimed book of the same title by Newbery Medal and Caldecott Honor-winning author Matt de la Peña and illustrator Christian Robinson. On her birthday, young Carmela wakes up thrilled to finally be old enough to join her big brother on their family errands. As they travel through their neighborhood, Carmela stumbles upon a lone dandelion growing in the pavement. But before she can blow away its white fluff, her brother reminds her to make a wish. With a heart full of hopes and dreams, Carmela wishes for a candy machine, a fancy bed for Mamí like the ones at the hotel where she works, and most importantly, for Papí to come back home soon. Then her dandelion is crushed before she can make her biggest wish. Can her brother help her to believe in the power of wishes once again? Join us on this journey celebrating family, dreamers, and the power of hope found in the most unexpected places.
TOUR DATES
October 30 – December 15, 2023
April 29 – May 25, 2024

RECOMMENDED AGES
1st Grade and up

ESTIMATED RUN TIME
Approximately 60 minutes
23/24 TOUR RATES
1-100 students: $500
101-125 students: $600
126-150 students: $700
151+ students: Call or Email for Rates*For reservations outside Bexar County, please contact us for rates. 
TOUR PERKS
TEKS-based classroom resource guides filled with activities related to the performance
Meet-and-greet with the cast
After-show Q & A session between your students and the cast
FAQs
Can I book a show for something other than a school?
Our performances also make great entertainment at special events.
Do we need to have a stage?
Our performances require a 25′ x 25′ stage/space to allow a seamless experience for sets and actors!
Indoor or outdoor? 
Magik Theatre requires reservations to be indoors on a hard-level surface. Due to large sets and equipment, we kindly request for the location of the performance to be only on the first floor of the building.
Please note that a changing area/space must be provided for the actors.
Do you require any equipment?
We will bring all of our own equipment with easy access to a standard electrical outlet.
Magik Theatre is a proud member of the Texas Touring Roster hosted by the Texas Commission on the Arts (TCA).
You can apply directly to the Mid-America Arts Alliance or the Texas Commission on the Arts for a grant to cover up to 50% of the touring fees and expenses.
Please contact these two agencies directly for additional information on grant requests, for more information or assistance with submitting your grant request, email us at info@magiktheatre.org.
QUARTERLY DEADLINE TO APPLY FOR FUNDING THROUGH TCA:
August 1, 2023 – for activities occurring September 1 – December 14
November 1, 2023 – for activities occurring December 15 – March 14
February 1, 2024 – for activities occurring March 15 – June 14
May 1, 2024 – for activities occurring June 15 – August 31
LOCATION
Magik Theatre
420 S. Alamo Street
San Antonio, TX 78205
BOX OFFICE HOURS
Monday – Friday
9 am – 5 pm