Magik Theatre on the Road – Bringing Family Friendly Entertainment to YOU!
Want to take your students on a journey but can't afford the rising cost of transportation? Want another option to bring LIVE entertainment to your students?
Magik Theatre on the Road brings fun, lively performances to children ages 3-12 directly to your computer or TV screen at your school. Reserve this interactive experience TODAY.
To book a show, click the button below, call 210.227-2751, or info@magiktheatre.org.
2021 – 22 Pricing for in-person tour options:
1-75 students: $400
76-100 students: $450
101-125 students: $550
126-150 students: $650
151+ students: call or email for pricing
*For shows outside Bexar County, please contact for pricing. 
Our Magik on the Road tours include:
TEKS-based classroom resource guides filled with activities related to the performance
Meet-and-greet with the cast
After-show Q & A session between your students and the cast
Simply watching a Magik production meets several of your students' dramatic and literary TEKs needs. Click on a play title below to download the Classroom Guide.
Did you know that you can get 50% of the cost covered by a grant? For more information visit Texas Commission on the Arts.
Upcoming quarterly funding deadlines:
August 1, 2021 – for activities occurring September 1 – December 14
November 1, 2021 – for activities occurring December 15 – March 14
February 1, 2021 – for activities occurring March 15 – June 14
May 1, 2021 – for activities occurring June 15 – August 31
is May 1, 2021 – for activities occurring June 15 – August 31
FAQs
Can I book a show for something other than a school?
Our performances also make great birthday parties or entertainment at special family events. Call for more details about tour availability.
Do we need to have a stage?
Our performances require a 25′ x 25′ stage/space to allow a seamless experience for sets and actors!
Indoor or outdoor? 
Magik requires reservations to be indoor only on a hard-level surface. Due to large sets and equipment, we kindly request for the location of the performance to be only on the first floor of the building.
Do you require any equipment?
We will bring all of our own equipment with easy access to a standard electrical outlet.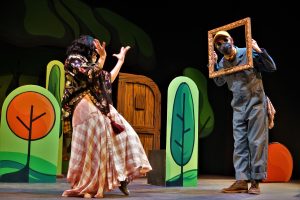 Snow White by Greg Banks
This is not your usual "Once Upon a Time." Classic? No. Wild? Yes! To start with, it's a two-person play. Do the math. Snow White and the Seven Dwarves? Two fabulous, whip-smart, super-fast actors play Snow White, the huntsman, the prince, and all seven dwarves! And it's funny. Really, really funny. So expect the unexpected in this fabulous fairy tale full of hilarious hijinks and meaningful lessons.
A groundbreaking collaboration among 41 Theatres for Young Audiences across the United States, led by the lead producing team of Bay Area Children's Theatre, Seattle Children's Theatre, and Alliance Theatre in Atlanta, will present the virtual premiere of A Kids Play About Racism, a theatrical adaptation of Jelani Memory's A Kids Book About Racism. Premiering August 1 and 2 on the streaming platform Broadway On Demand, the new work is adapted and directed by award-winning director and TYA artist Khalia Davis and will be brought to life by an entirely Black and BIPOC cast and creative team from across the United States.
A Kids Play About Racism will utilize theatre to offer young children and families a way to engage in meaningful conversation about race. As part of the production, educational materials developed by Seattle Children's Theatre in collaboration with the Northwest African American Museum will extend the experience and enhance age-appropriate engagement.
This is a FREE streaming opportunity for all educators, please visit this LINK to register.
Digital Streaming Pricing:
$250+ for groups from 1-99 (72 hour access with code)

$400+ for groups from 100-249 (72 hour access with code)

$600+ for groups from 250-499 (72 hour access with code)

For groups/schools of 500+, multiple streaming productions or longer periods of time, please call or email for pricing.

Rates are also based on number of students/classes/schools.
For an additional fee, we would include a teaching artists to offer pre and/or post instructional opportunities. Email us info@magiktheatre.org for additional information.
Videos are streamed on YouTube and/or Vimeo with access code to schedule viewing the production in your allotted time.
Magik would like to thank Union Pacific for their support of this online programming.
Programs and artists are subject to change.
Did you know that you can get 50% of the cost covered by a grant?
Magik Theatre is a proud member of the Texas Touring Roster hosted by the Texas Commission on the Arts (TCA). You can apply directly to the Mid-America Arts Alliance or the Texas Commission on the Arts for a grant to cover up to 50% of the touring fees and expenses. Please contact these two agencies directly for additional information on grant requests. 
To apply, please visit the Texas Commision on the Arts. Click HERE to read the FAQ on applying for funds. 
Eligibility: All Texas nonprofits, schools, colleges, and units of government.
QUARTERLY DEADLINE TO APPLY FOR FUNDING THROUGH TCA:
August 1, 2021 – for activities occurring September 1 – December 14
November 1, 2021 – for activities occurring December 15 – March 14
February 1, 2021 – for activities occurring March 15 – June 14
May 1, 2021 – for activities occurring June 15 – August 31