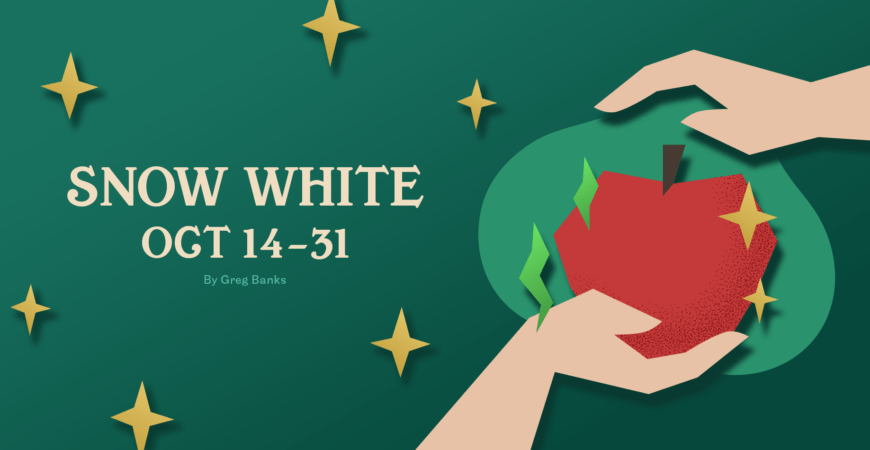 Snow White
October 14 – 31, 2021
Snow White
by Greg Banks
Recommended for ages 6+
This is not your usual "Once Upon a Time." Classic? No. Wild? Yes! To start with, it's a two-person play. Do the math. Snow White and the Seven Dwarves? Two fabulous, whip-smart, super-fast actors play Snow White, the huntsman, the prince, and all seven dwarves! And it's funny. Really, really funny. So expect the unexpected in this fabulous fairy tale with a (spoiler alert) you-won't-see-it-coming twist.
GROUP RATES 
Group rates are available starting at 8 or more.
Call the box office at (210) 227-2751 or email us at info@magiktheatre.org.

SPECIAL PERFORMANCES
Opening Day: Saturday, October 16, 2021 | 5:00 PM
Opening day guests will be delighted to find a state fair-style outdoor celebration with games, food, and fun beginning at 12:00 p.m.
Military Appreciation Day: Sunday, October 17, 2021 | 3:00 PM
Active or retired members of the military with I.D. pay $11.50 (Reg. $26.50) per ticket for their entire party.
American Sign Language (ASL) Interpreted Performance: Saturday, October 30, 2021 | 2:00 PM 
Robert Cardoza, the San Antonio theatre community's primary sign language interpreter, will be available during this performance for patrons that require ASL as their primary form of communication.

HEALTH AND SAFETY GUIDELINES
Please visit HERE for our current safety protocols that will include masks for everyone over the age of 2 upon entering the building.