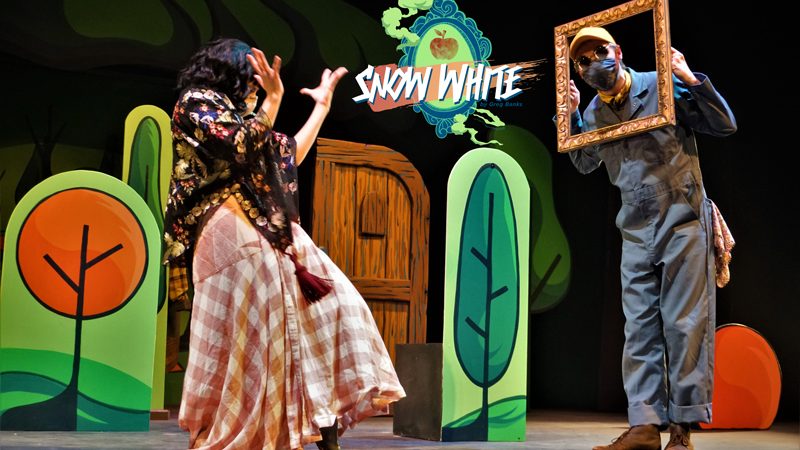 Snow White by Greg Banks
Recommended for ages 6+
The wait is over! The much anticipated production of Snow White, which was recorded in front of a LIVE audience in December, is NOW available!
Join us on Saturday, March 13 at 2pm for a FREE presentation of Snow White. Stick around after the performance for a LIVE chat and Q&A with Rosa Gardner, who portrays Snow White and other characters. This is a special opportunity to get some behind the scenes insight and ask any questions you and your family may have about the production!
This is not your usual "Once Upon a Time." Classic? No. Wild? Yes! To start with, it's a two-person play. Do the math. Snow White and the Seven Dwarves? Two fabulous, whip-smart, super-fast actors play Snow White, the huntsman, the prince, and all seven dwarves! So expect the unexpected in this fabulous fairy tale with a (spoiler alert) you-won't-see-it-coming twist.
Download FREE Activity Guide HERE.

MEET THE CAST
Rosa Gardner (Snow White/Others) is more grateful than ever to be back on stage and playing such fun characters! Some favorite Magik shows include Bunnicula (Chester), A Charlie Brown Christmas (Woodstock), Knuffle Bunny (Trixie), The Cat in the Hat (Thing 2), Schoolhouse Rock: Live! (Dina), and Willy Wonka (Veruca). Special shoutout to her number one fan, her daughter Amelia.
Bobby Tschoepe (Four/Others) is so thankful and ecstatic to be back at the Magik Theatre! Past Magik credits include Bunnicula (Harold), Tiny Tim's Christmas Carol (Bookseller), Willy Wonka (Mike Teavee), and The Cat in the Hat (Boy). Bobby currently lives in New Braunfels and works for Christian Youth Theater SA-NB (#findyourcharacter) where he directs, teaches, and serves as Artistic Director. He is so thankful to the team at Magik for
creating opportunities to tell stories in a time where it is desperately needed!
And so begins a theatrical endeavor with Rosa and Bobby playing multiple roles that include Snow White, all seven dwarves and a mix of other characters.
Magik would like to thank Union Pacific for their support of this online programming.