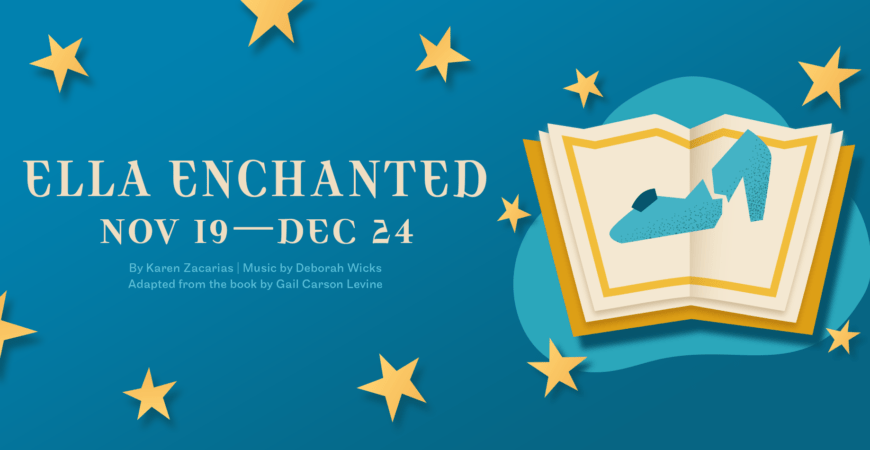 Ella Enchanted
November 19 – December 24, 2021
By Karen Zacarías
Music by Deborah Wicks La Puma
Adapted from the book by Gail Carson Levine
Recommended for ages 5+
Ella of Frell is turning the traditional Cinderella story upside down. At birth, she was given the "gift" of obedience by her misguided fairy godmother. But as a teenager, strong-willed Ella chooses to reject her fate and embarks on a quest to break the curse forever. Through her adventures, Ella must outwit evil stepsisters, escape hungry ogres, and save the prince before she can claim her real voice. Ella Enchanted: The Musical is a fairy tale about self-empowerment, perseverance in the face of insurmountable obstacles, and an eagerness to learn. Don't miss this heart-warming and powerful tale that will encourage children of all ages to discover the power of words – within their own voice.
*Special 2-act production.
GROUP RATES 
Group rates are available starting at 8 or more.
Call the box office at (210) 227-2751 or email us at info@magiktheatre.org.

SPECIAL PERFORMANCES
Opening Day: Sunday, November 20, 2021 | 6:00 PM
Opening day guests will be delighted to find a state fair-style outdoor celebration with games, food, and fun beginning at 12:00 p.m.
Military Appreciation Day: Sunday, November 21, 2021 | 3:00 PM
Active or retired members of the military with I.D. pay $11.50 (Reg. $26.50) per ticket for their entire party.
American Sign Language (ASL) Interpreted Performance: Saturday, December 11, 2021 | 2:00 PM 
Robert Cardoza, the San Antonio theatre community's primary sign language interpreter, will be available during this performance for patrons that require ASL as their primary form of communication.

HEALTH AND SAFETY GUIDELINES
Please visit HERE for our current safety protocols that will include masks for everyone over the age of 2 upon entering the building.