As we enter our 27th season, we continue our mission to bring great children's books to life onstage, provide families with meaningful shared experiences and spark a love of the arts and literature to last a lifetime.
The Magik Theatre is closely monitoring local health and safety protocols and due to the current guidelines from the state, we have delayed the opening of our 2020-2021 season. Though Magik remains flexible on our timeline and hopes to welcome you and your family back to our theatre soon, we have designed virtual productions to bring a little bit of "Magik" to your home.
Your family can NOW experience ONLINE performances of Jack and the Beanstalk, Dragons Love Tacos, and Everything is Round, visit HERE for more information.
Magik is preparing live productions of Snow White, Señora Tortuga, and Theatre for the Very Young production of Everything is Round. These shows are designed to tour to different locations throughout the city and surrounding communities: Our actors can perform in any location that follow current health and safety protocols – indoors or outdoors.
UPCOMING PRODUCTIONS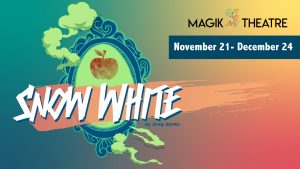 All dates are subject to change. Please visit this page for the most current show information.