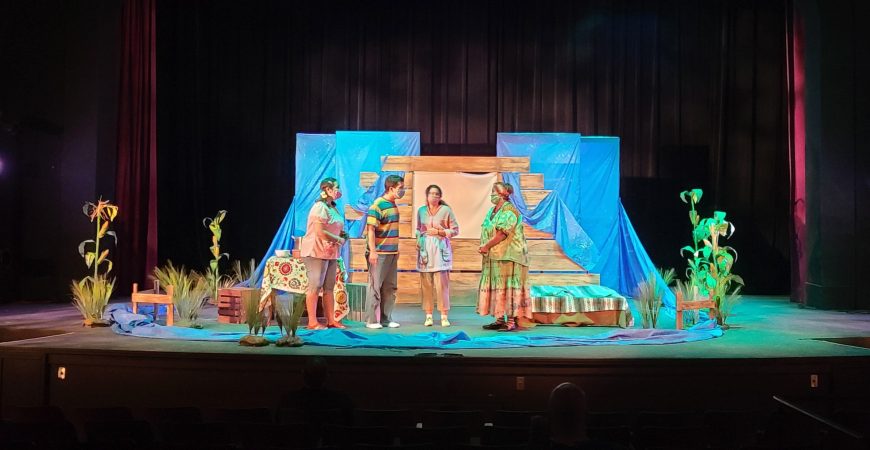 Señora Tortuga – POSTPONED
by Roxanne Schroeder-Arce
October 30 and 31, 2020 at 7:00pm
Hemisfair on the Great Lawn
A celebration of the assimilation of two cultures and languages, this English/Spanish bilingual play uses the wisdom tales of Latin American cultures to give hope to a family faced with too much reality. Young Pedro and his family make their home in a barn on the Mexican border. Pedro complains of having nothing and brings his mother many headaches. On one occasion, she invites a hungry woman to share the family dinner. But this Señora returns time and again to eat and tell fantastical stories of the enchanted serpent and Cucuy of Latin American legend, filling Pedro's nights with heroic, yet frightening dreams. Surprisingly, Pedro is learning from these wisdom tales, but his mother is suspicious of the Señora until it is revealed that Señora Tortuga holds the thread that ties their past dreams to their future.
PRICES:
Pass for up to 2 guests  – $25
Family pass of up to 4 guests – $45
Family pass of up to 6 guests – $60
Please note, due to spacing limitations, no chairs will be allowed on the lawn area. Guests are encouraged to bring blankets, seat cushions or other non-obstructive chairs (beach chairs).
__________________________________________________________________________
Seating will be set up in family pods on the Great Lawn at Hemisfair following current COVID-19 protocols.
Check-in will begin at 6:15 pm and seating will be on a first-come first-serve after checking in.
What to expect when you arrive at check-in at Hemisfair:
Temperatures will be checked for every guest. If any member of a party has a temperature of 100 degrees or higher, the entire party will not be able to attend the show. Guests who are unable to attend a show due to temperatures will be able to refund or reschedule their tickets.

We ask that all guests within a party arrive at the same time to maintain social distancing between groups as you get seated.

Guests will be required to wear a face mask while in line checking in (with the exception of those under the age of 2).

The only time patrons will be allowed to remove their mask is while seated and eating or drinking concession items. If a patron is not eating or drinking, will suggest you continue to wear a face-covering while in your seating pod.

All guests will be asked to disinfect their hands with sanitizer.
Please note, chairs of any sort are prohibited on the lawn but blankets and/or seat cushions are suggested. All seating in the lawn area will be reserved. All other locations unmarked as reserved will be FREE to all attendees wishing to see the production.
Magik would like to thank Union Pacific and Whataburger for their support of our Magik on the Road Productions.