About Knuffle Bunny: A Cautionary Musical
In Knuffle Bunny, a trip to the Laundromat takes a turn when "somebunny" is left behind in this musical that is full of adventure and gigantic dancing laundry.
How do you say "Knuffle Bunny"? We like to say it how Mo Willems says it.
Based on the beloved Caldecott Honor-winning picture book, Knuffle Bunny: A Cautionary Musical is filled with adventure, song and dancing laundry and an instant children's classic! Six-time Emmy Award winner, Mo Willems, teams up with Grammy Award-winning composer, Michael Silversher, to create this heart-warming and hilarious musical.
The Story
Girl loves stuffed animal. Girl loses beloved animal. Girl fights to get animal back. Trixie, her father, and her favorite stuffed bunny set off on a trip to the Laundromat. The trip brings wonder, excitement and joy to the lively toddler until she realizes that she has left her Knuffle Bunny back at the laundromat. Trixie does everything in her power to make her father understand the emergency.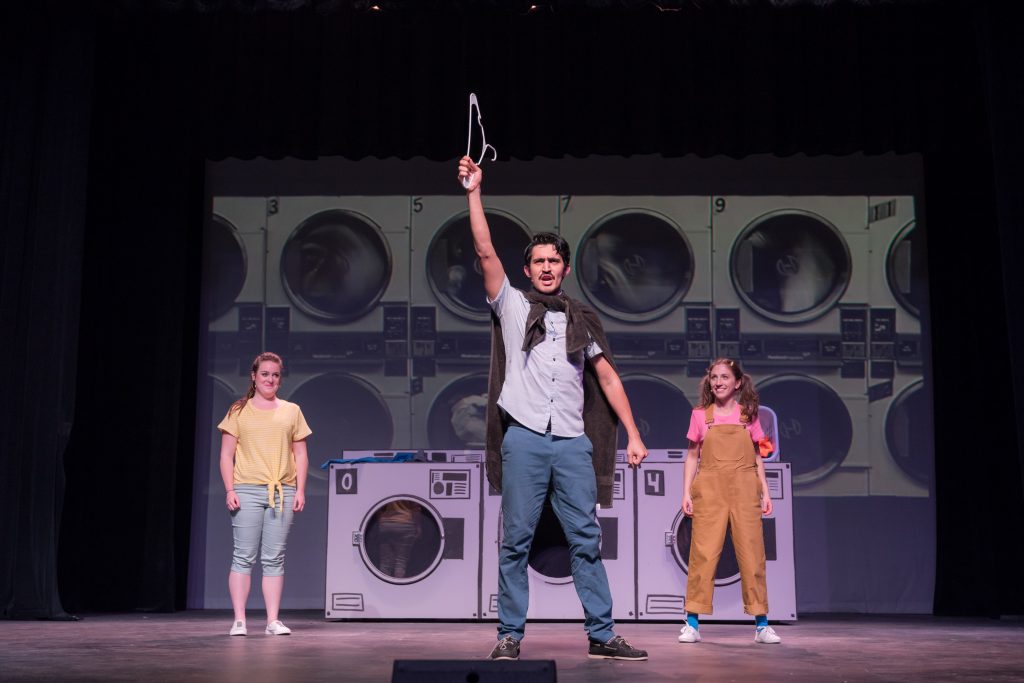 This brilliant, true-to-life tale is the epitome of children's theatre, the story itself already proclaimed a "kid favorite." Knuffle Bunny: A Cautionary Musical is the perfect show for a family-friendly outing. It returns to the Magik stage with Ariel Rosen, who portrayed Mom in the 2012 production, directing. "Knuffle Bunny is a show filled with so much adventure and heart, I'm so excited to be at the helm for its return to the Magik stage," Ariel says. "Last time we produced it, I was actually a part of the cast! It's a thrill to be on the other side of things, especially now that I've been the parent of a toddler just as precocious as Trixie."
The story comes to life onstage through April 7, 2018. There are shows the week of Spring Break (March 13-16) at 11:45 a.m. Regular performance times are Saturday and Sunday at 2 p.m. For tickets, visit MagikTheatre.org or call the box office at 210-227-2751. Tickets are $13.50 for adults and children; senior, military and educator discounts are available.
Script and Lyrics by Mo Willems and music by Michael Silversher and based on the book, Knuffle Bunny: A Cautionary Tale by Mo Willems. Knuffle Bunny: A Cautionary Musical is presented through special arrangement with Music Theatre International (MTI). All authorized performance materials are also supplied by MTI. www.MTIShows.com.
Media
From Deborah Martin at the Express News, on Rosa Gardner's process of becoming a toddler
How to Expose your Children to Theatre from our friends at Wine and Lavender, a blog for San Antonio moms.
Cast and Crew
The Cast includes: Rosa Gardner (Trixie), Randee Lutterloh (Mom), Travis Trevino (Dad), Cody Asher (Puppeteer), Jovi Lee (Puppeteer)
The Production team includes: Ariel Rosen (Director), Darrin Newhardt (Music Director), Pat Smith (Scenic Designer), Ronald Watson (Costume Designer), Brad Peterson (Lighting and Projections Designer), Lucian Hernandez (Properties Designer), Shawanna Hall (Stage Manager).
Runs through April 7, 2018. Good for all ages, ideal for ages 3-7.