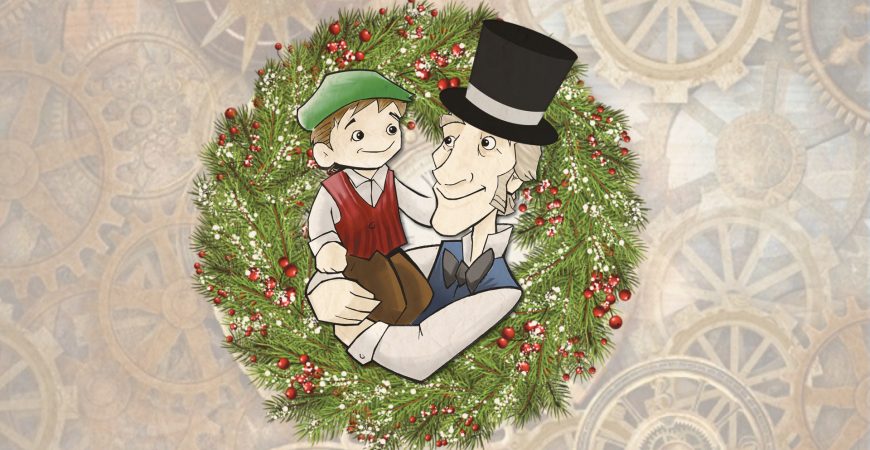 Tiny Tim's Christmas Carol
Book and lyrics by Ken Ludwig and Jack Ludwig, based on A Christmas Carol by Charles Dickens
November 19, 2019 – December 19, 2019
Recommended for all ages
Tiny Tim longs to have his father home on Christmas day, but mean old Mr. Scrooge won't give Bob Crachit the day off! There must be a way to change Scrooge's mind – perhaps a ghost or two will set Scrooge right. Can this clever boy and his best friend Charlotte save Christmas and change the heart of the meanest man in town? With a little help from some kindly sellers at the market and a touch of Christmas magic, anything is possible. Adapted from the classic Charles Dickens' novel, Tony Award winner Ken Ludwig and his son, Jack Ludwig, write this heartwarming Christmas tale that is sure to delight all ages.
Please see our Tickets page for information about season tickets for the 2019 – 2020 season.
HOLIDAY BLANKET DRIVE
The Magik Theatre is partnering with SAMMinistries to bring warmth and joy to everyone this holiday season. To help support their mission, Magik will be collecting new blankets at our box office during the months of November and December.
SAMMinistries is an interfaith ministry whose mission is to help people experiencing homelessness attain self-sufficiency by offering, with dignity and compassion, shelter, housing, and services. To learn more about their mission or to donate, visit HERE.