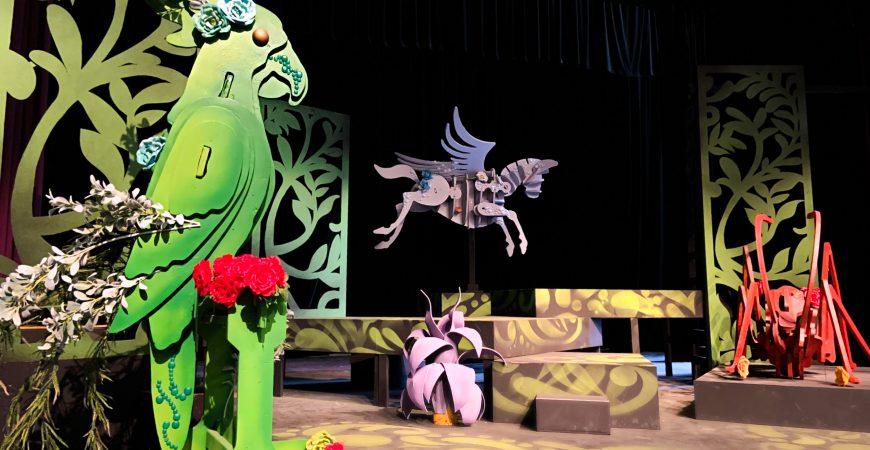 The Magical Piñata
Book and lyrics by Karen Zacarías, music by Deborah Wicks La Puma
January 24, 2020 – February 15, 2020
Recommended for ages 5-8
Adventure awaits when a seemingly plain clay pot magically transports Cucha, a selfish and lonely girl, from her hometown of Zapoteco, Mexico, to a mysterious jungle filled with eccentric characters. Using her knowledge of both English and Spanish, Cucha encounters Parrot Rivera, a jungle muralist who paints the future; Señor Chapulin, a soccer star with the heart of the present; and Burro Burrito, a farmer who plows through the past. Meanwhile, the evil Monkey King and his silly sidekick know the clay pot is really a magical piñata and scheme to steal it from Cucha. Through Cucha's journey, she discovers the magic of the mundane, the roots of cultural pride, and the power of sharing.
The Magical Piñata is sponsored by the Martha-Ellen Tye Foundation.
The Magical Piñata is recommended for ages 5-8, however, all ages are welcome.
Sponsored by the Rea Charitable Trust
Special Performances
Educator & Opening Night: January 24 at 6:30 p.m.
Enjoy festive activities at the opening performance of The Magical Piñata, including crafts, photo opportunities with our friends from Magic 105.3, and more! Educators are eligible for 2 free tickets and 1.5 hours of CPE credit to this performance. To reserve your tickets, call 210-227-2751. 
Military and First Responders Performance: February 1 at 2:00 p.m.
Active or retired members of the military and first responders with I.D. pay $5 per ticket for their entire party for this performance. For assistance with your reservation, call 210-227-2751.
Sensory-Friendly Performance: February 8 at 10:30 a.m.
Sensory-friendly performance for patrons on the autism spectrum or with other cognitive disabilities. Sponsored by University Health System.
American Sign Language Interpreted Performance: February 8 at 2:00 p.m.
Robert Cardoza, the San Antonio theatre community's primary sign language interpreter, offers his services for this ASL interpreted performance. Sponsored by University Health System.