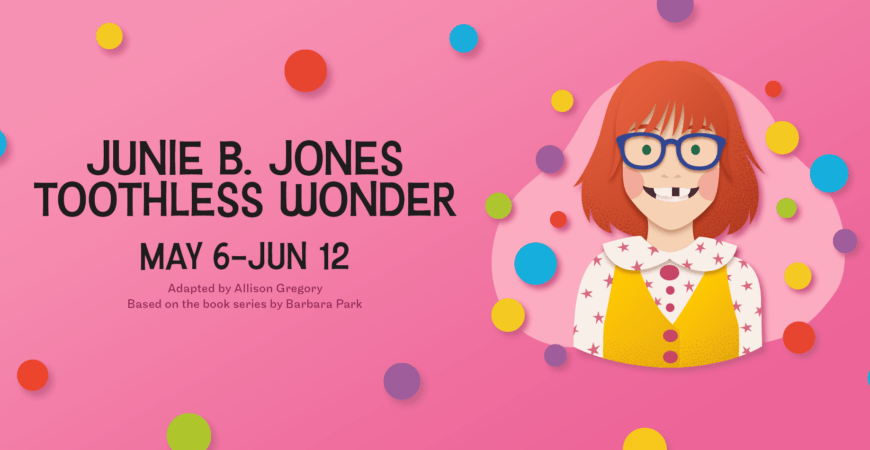 Junie B. Jones: Toothless Wonder
May 6 – June 12, 2022
Adapted by Allison Gregory
Based on the book series by Barbara Park, illustrated by Denise Brunkus
Recommended for ages 4+
One of Junie B. Jones's top front teeth is loose! Only Junie B. is not that thrilled about this development because what if she looks like toothless Uncle Lou? And even worse – what's all this tooth fairy business? Meanwhile, that meanie Jim has invited everyone in Room Nine to his birthday party on Saturday except Junie B.! Should she have her own birthday party six months early and not invite Jim? Or should she move to It's a Small World After All in Disneyland?
GROUP RATES 
Group rates are available starting at 8 or more.
Call the box office at (210) 227-2751 or email us at info@magiktheatre.org.

SPECIAL PERFORMANCES
Opening Day: Saturday, May 7, 2022 | 5:00 PM
Opening day guests will be delighted to find a state fair-style outdoor celebration with games, food, and fun beginning at 12:00 p.m.
Military Appreciation Day: Sunday, May 15, 2022 | 3:00 PM
Active or retired members of the military with I.D. pay $11.50 (Reg. $26.50) per ticket for their entire party.
American Sign Language (ASL) Interpreted Performance: Saturday, May 21, 2022 | 2:00 PM
Robert Cardoza, the San Antonio theatre community's primary sign language interpreter, will be available during this performance for patrons that require ASL as their primary form of communication.

HEALTH AND SAFETY GUIDELINES
Please visit HERE for our current safety protocols that will include masks for everyone over the age of 2 upon entering the building.