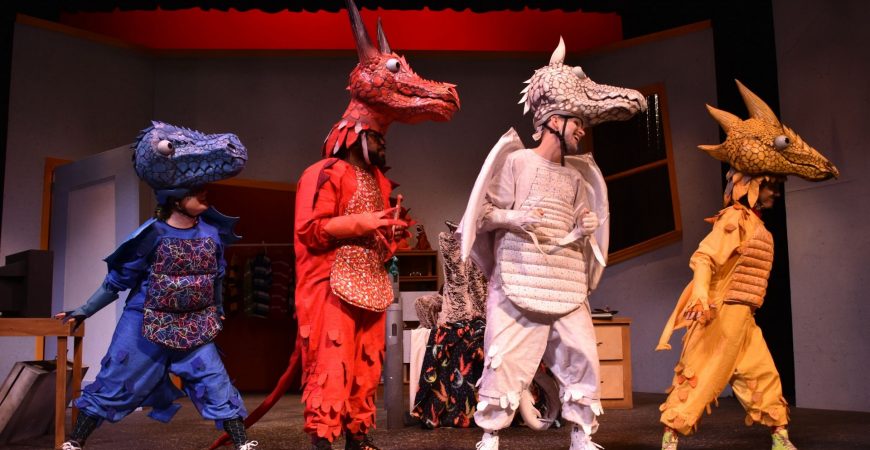 Dragons Love Tacos
Back for a Limited Time | June 13 – 21, 2020
Stage adaptation by Ernie Nolan, produced by special arrangement with Plays for Young Audiences. Based on the book by Adam Rubin with illustrations by Daniel Salmieri, published by Penguin Group.
Recommended for ages 3 – 10
You know what dragons really love? Tacos of course! They love chicken tacos, beef tacos, great big tacos, and teeny tiny tacos. While a boy and his dog are watching TV, they unexpectedly learn the 'Do's and Dont's' of what kinds of tacos to serve dragons. Unfortunately, when the boy throws his new dragon friends a spicy salsa taco party, red-hot trouble ensues! Discover the dietary delights and dilemmas of dragons in this fun-filled production, adapted from The New York Times Best Selling book. Dragons Love Tacos is a sizzling story full of fiery fun for your entire family!
If you are in need of accessible seating or special accommodations, please contact the box office at info@magiktheatre or call (210) 227-2751.
PLEASE NOTE:
by purchasing tickets, you are agreeing to a temperature check, wearing a face mask, and sanitizing your hands prior to entering the theatre. Reservations must be made in advance, no tickets will be sold at the door. Please read Magik's new health and safety guidelines prior to your visit by
clicking here
.

Media Support Sponsors: