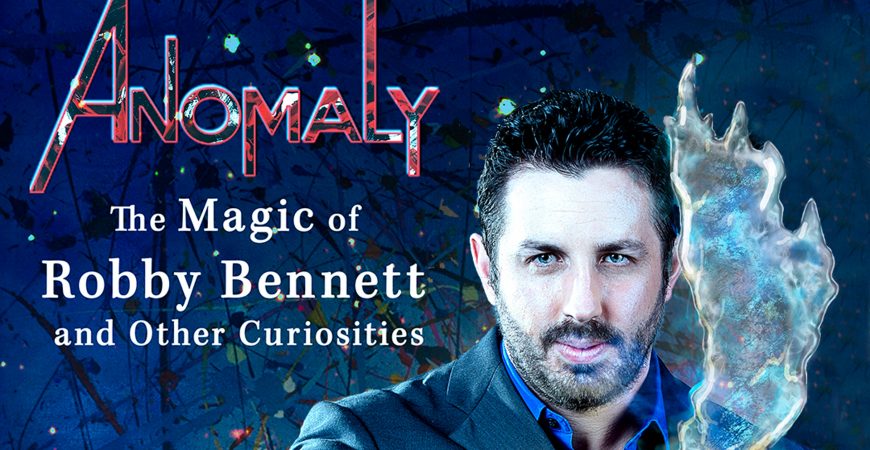 EVENT HAS BEEN CANCELLED – Refunds at place of purchase (online orders will be refunded automatically)
June 29, 2019, 4:00 pm. & 7:30 p.m.
Tickets from $25
Magik Theatre |  420 S. Alamo St. | San Antonio, Tx 78205
A MAGICAL EXPERIENCE FOR THE AGES… FOR ALL AGES!
As seen on ABC's GOOD MORNING AMERICA, ESPN SPORTSCENTER, and INSIDE EDITION. A spectacle that combines Magic, Acrobatics, and Comedy to alter your perception of time and shatter your sense of what's possible. Presenting magician extraordinaire Robby Bennett! Robby has performed worldwide from the Las Vegas Strip to New York City to Africa. He has an unapologetic wit that makes his amazing skills even more unforgettable. Robby takes the stage with a masterful presence that brings audiences to their feet, emotionally charged, astounded, and laughing to tears.
"Robby Bennett is a young performer breathing new vitality into an old art form and engaging audiences with a renewed sense of wonder. The young Texan is pushing the boundaries of peoples' expectations of a stage magic show and is someone worth seeing live. […] His approach helps to restore a sense of mystery to the proceedings, since modern audiences demand more than they might have in the past." -HOUSTON FREE PRESS
On June 29th at the Magik Theatre, Robby will perform his spellbinding routines with gripping stories and hilarious anecdotes as narration. The impossible will vanish before your eyes, and logic be forgotten as you sit in awe. Robby will even take someone from the audience and turn them into a genuine magician in a matter of minutes. This unique blend of fantasy and comedy makes this the kind of performance modern audiences have been waiting for.
EXCLUSIVE OFFER!
Get tickets by May 31st for access to a Private Meet & Greet!  Join Robby on stage for photos and close-up magic (Max 40 people per show).
Tickets from $25 – Be sure to use Ticket Type "Adult (with Meet & Greet)" when selecting your tickets.
This is event is a special event and not a Magik Theatre presentation.  Flex Passbook passes are not available for this event.