2018 Camp Showbiz will take place June 11 - August 24, 2018 at The Magik Theatre (Downtown) and the Magik Performing Arts Center (IH 10/De Zavala).
At The Magik Theatre's Camp Showbiz, no two session are alike! With guidance from our professional teaching artists, our campers take charge of their experience by learning how to collaborate together to create one-of-a-kind shows. Over the course of a session, campers will have fun growing their imaginations by developing original plays, sharpening acting and improvisational skills, and rehearsing show-stopping musical numbers.  
Studies show that creativity is essential to a child's development. The skills gained through engaging the creative process are applicable to all careers and lifestyles. Our process-based approach to theatre brings out each child's unique talents and shows them they are capable of great things!
We've recently switched over to a new registration site. Since we know that new registration processes can be a challenge, we are happy to provide step-by-step instructions. Parents, please download these registration instructions to aid you in registering your child for camp.
Camp Session Schedule
The Magik Theatre (Downtown) and The Magik Performing Arts Center (I-10/De Zavala)
Each camp session runs two weeks with the exception of the 3.5 – 5-year-old iStation camp (one week) and our Great Performances camp (four weeks).
Please note that camp will not be held the week of July 4th.
Each session culminates in a Friday 3:00 p.m. showcase for family and friends.
Session 1: June 11-15, 2018 and June 18-22, 2018
Session 2: June 25-29, 2018 (One Week Only due to July 4th)
Session 3:  July 9-13, 2018 and July 16 – 20, 2018
Session 4: July 23-27, 2018 and July 30 – August 3, 2018
Session 5: August 6-10, 2018 and August 13-17, 2018
Session 6: August 20-24, 2018 (One Week Only due to start of school)
For class descriptions, see below. Click here to view our full camp brochure – NOW UPDATED WITH SOLD OUT CLASSES.
You can also view the class description while registering if you hover over the class title.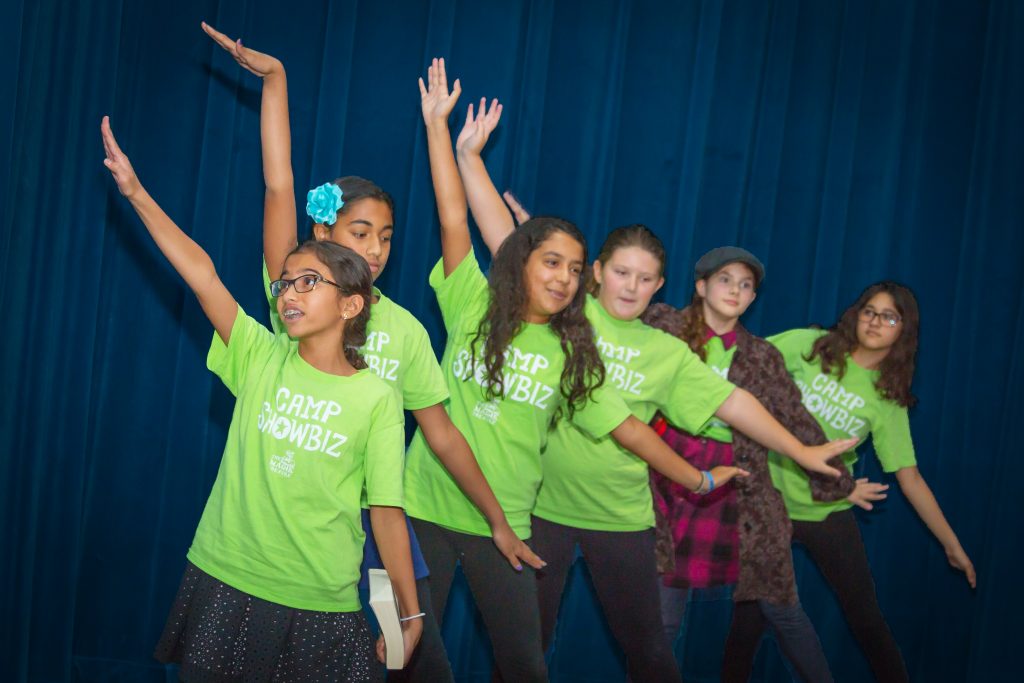 Full Day Camp
Classes for children age 5 and up run from 9:00 a.m. to 3:00 p.m. and are full of fun opportunities to flex creative muscles by developing original plays, exploring dramatic adventures, learning choreography from their favorite musicals, or rehearsing a full-length musical production.
Half-Day Camp

Camp programming for children age 3 to 5 is available at both locations and will run from, 9:00 a.m.-12:00 noon.  These classes encourage campers to use their imaginations in new and exciting ways and help our young artists to grow their creative skills through their love of playing pretend.
Daily Schedule
The typical daily schedule for a full day experience includes:
8:45 – 9:00 AM Drop Off
9:00 – 9:30 AM Warm-Ups
9:30 – 11:30 AM Creative Classroom Time
11:30 – 12:30 PM Lunch and Outdoor Recess
12:30 – 1:15 PM Mini Focus
12:30 – 2:45 PM Creative Classroom Time
2:45 – 3:00 PM Snack/Reflection
3:00 – 3:15 PM Pick Up
The typical daily schedule for a half – day experience includes
8:45 – 9:00 AM Drop Off
9:00 – 11:30 AM Creative Classroom Time
11:30 – 12:00 PM Snack/Reflection
12:00 – 12:15 PM Pick Up
The camp rates include:
a $50 non-refundable administrative fee)

tuition for the length of the chosen camp

one camp shirt

and admission to a mainstage or touring performance
Tuitions paid in full are subject to a refund up to one (1) week before the session begins (except for the $50 administrative fee which is not subject to a refund). Following that time, all tuition and deposits are non-refundable.
Full-Day Camp
One-Week Sessions: $250 Early Bird, $275 After May 1st
Two-Week Sessions: $450 Early Bird, $475 After May 1st
Great Performances (four week): $670 Early Bird, $695 After May 1st
Half-Day Camp
Imagination Station: $190 Early Bird Rate, $215 After May 25th
Early Bird Discount
Camp registrations paid in full before May 1, 2018 are eligible to receive $25 off each session! Select the Early Bird Discount from the drop down menu when selecting your class to receive the discounted tuition price.
Limited scholarship funding is available. Please download and complete the Scholarship Application. Email applications to education@magiktheatre.org Please do not mail applications.
The deadline to submit an application is Friday, May 25, 2018 by 5 PM. Late or incomplete applications will not be considered.  
Extended care will be available from 8:00 a.m. to 9:00 a.m. and from 3:30 p.m. to 5:30 p.m. Morning extended care will consist of quiet drawing and reading. Monday through Friday in the afternoons, campers will participate in art projects, theatre games, board game competitions, or a movie selected by the Education Coordinator or Director of Education. Afternoon extended care is not available for half day campers, and will not be held on the last day of camp which is showcase day.
Extended Care Flat Rate
Extended care morning rate $25/child
Extended care afternoon rate $50/child
Extended care combined morning and afternoon rate $65/child
If you have an unforeseen circumstance and will be running late in the afternoon, please call ahead and we will place your child in Extended Care until you arrive. Hourly care is $10 per hour per child and must be paid in cash or check upon pick-up or drop-off.
Camp Descriptions
Imagination Station
| Ages 3.5 – 5
Our half-day adventures bring out the best in your child's imaginative escapes. Little ones sharpen their social, motor, and problem-solving skills while building self-confidence through games, stories, movement activities and other creative exercises. All campers must be able to use the restroom independently, with no help. This class culminates in campers sharing a movement activity and a scene from their dramatic adventure, and displaying their original art. Imagination Station family sharing will occur in the last hour of the last camp day.
Devised Theatre and Skill Building Camps |
Ages 5-7, 7-11
Devised Theatre – Using the camp session theme, campers delve deeper into drama, using books, movies, and the world around them as inspiration. They will flex their creative writing muscles to answer the question, "If all of the characters from the different worlds we explore met for a day, what would that adventure be like?" Through fun dramatic games, collaboration, and original ideas, campers will develop a new play that will make its world premiere on our stage. These camps end with a showcase or their original work on Friday afternoon.
Skill Building – These classes focus on the FUNdamentals.  Campers will develop their training in a specific theatre –related skill (acting, stage makeup, filmmaking, or musical theatre) over the course of a week. These are great for those who are new to theatre or those who want to expand their "tool box" and practice new techniques. These camps will end with a showcase or portfolio of completed work. Please see the individual class description for further details.
Pre-Teen and Teen Workshops
| Ages 12 +
Through our intensive musical theatre and acting workshops, students will focus on a particular area of the performing arts.  From college prep to intermediate and advance technique development, our pre-teens and teenage students use their session to refine their skills while receiving more in-depth training from our professional teaching artist staff. Each class ends with a showcase performance on Friday afternoon.