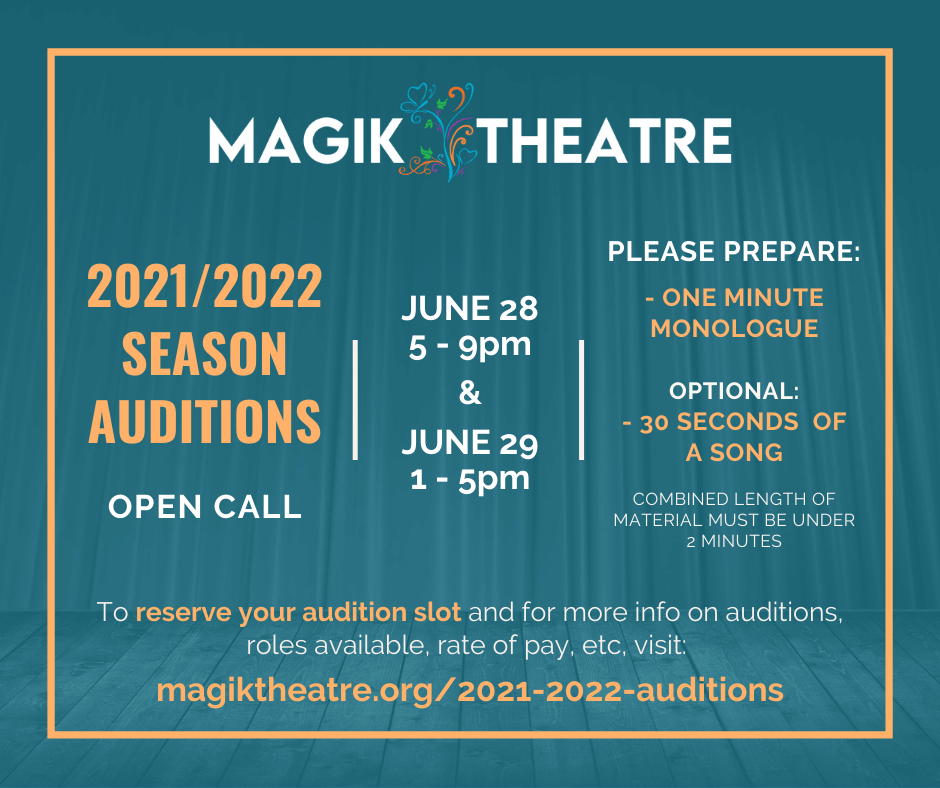 Magik Theatre will be holding in-person, open calls for non-Equity, adult actors on June 28th from 5PM – 9PM and June 29th from 1PM – 5PM. Auditions will be held with current COVID-19 protocols in place, including temperature checks, physical distancing, and mask wearing (other than while actively auditioning). Please email casting@magiktheatre.org in order to schedule an audition appointment.
All actors should prepare 1 monologue; material need not be for young audiences. Actors may also choose to sing 30 seconds of an up-tempo song in addition to the monologue. If singing, actors must provide their own music track. An audio connection for devices will be available. Combined length of piece(s) should not exceed 2 minutes in total length.
Video submissions will be accepted. Email video or link to video (preferred), along with resume to casting@magiktheatre.org by June 28th at 5PM.
PLEASE NOTE: Magik Theatre serves families and schools. Rehearsals and performances are held during daytime hours. Touring productions will include overnight trips outside of Bexar county, for which hotel and per diem are included. Touring actors are expected to be able to drive the touring van as part of their duties. Actors are paid $400 per week and are expected to be vaccinated against Covid-19 since masks will not be worn while performing.
Shows and Available Roles: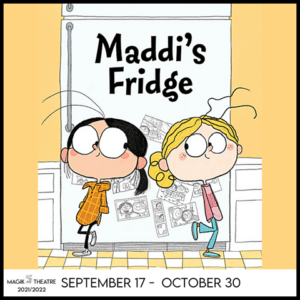 MADDI'S FRIDGE (in rep with SNOW WHITE)*
Performances at Magik Theatre and on tour throughout Texas.
Contract dates: August 30 – November 7, 2021 & March 21 – May 29, 2022
Maddi: 12 years old; role requires climbing; any ethnicity

Sofia: 12 years old, Maddi's best friend; role requires climbing; Latinx/Hispanic

Luis: 7 years old, Sofia's little brother; Latinx/Hispanic
About the show: Maddi and Sofia are best friends. One day, Sofia discovers that Maddi has no food in her fridge at home. Sofia wants to help her friend, but Maddi makes her promise not to tell anyone. What should Sofia do? Based on the book by Lois Brandt,  this heartwarming and hilarious play is a story about honesty, sensitivity, and instilling important lessons in friendship, empathy, and helping others.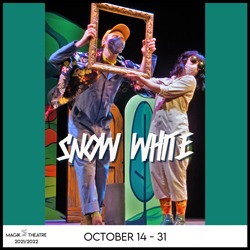 SNOW WHITE (in rep with MADDI'S FRIDGE)*
Performances at Magik Theatre and on tour throughout Texas.
Contract dates: September 21 – November 14 & November 30 – December 19, 2021
Snow White – plays multiple roles; any ethnicity

Dwarf 4 – plays multiple roles; requires strong physicality; any ethnicity
*Ideally, the two actors in Snow White will also perform in Maddi's Fridge, but we are open to casting these roles separately. 
About the show: This is not your usual "Once Upon a Time." Classic? No. Wild? Yes! To start with, it's a two-person play. Do the math. Snow White and the Seven Dwarves? Two fabulous, whip-smart, super-fast actors play Snow White, the huntsman, the prince, and all seven dwarves! And it's funny. Really, really funny. So expect the unexpected in this fabulous fairy tale with a (spoiler alert) you-won't-see-it-coming twist.
ELLA ENCHANTED (Musical)
Performances at the Magik Theatre
Contract Dates: November 1st – December 24th, 2021
Mother / Dame Olga (& Others) – Ella's mother and evil stepmother; any ethnicity

Olive (& Others) – Ella's meaner evil stepsister; any ethnicity
About the show: Celebrate the holidays with this musical twist on Cinderella! Ella of Frell is given the '"gift" of obedience by Lucinda, her misguided Fairy Godmother, and is forced to do anything people command her. On her adventure to rid herself of the curse, she must outwit ogres, sidestep giants, befriend a prince, survive her step-family, and ultimately find the power to be her true self.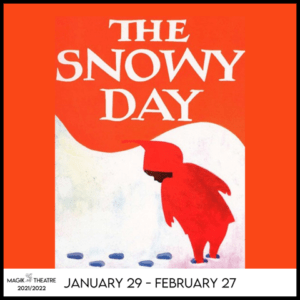 THE SNOWY DAY and OTHER STORIES by EZRA JACK KEATS (Musical)
Performances at the Magik Theatre
Contract dates: January 3 – February 20, 2022
All characters are played by 3 actor/puppeteers. All players sing.
Player 1: Plays Peter and others; Black

Player 2: Plays Dad, Willie, and others; Black

Player 3 : Plays Mom, Archie, Amy, and others; Black
About the show: Celebrate the magic and boundless possibilities of the first snowfall! Follow Peter and his friends as they romp and play, starting snowball fights and making snow angels in this imaginative musical play about the childhood joys and challenges of growing up. Keats' treasured characters come to life in this humorous and fun adaptation of Whistle for Willie, Goggles!, A Letter to Amy, and The Snowy Day.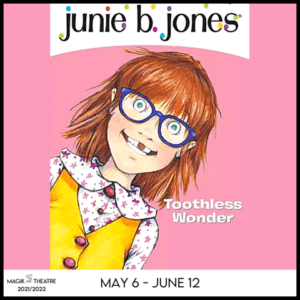 JUNIE B.: TOOTHLESS WONDER – World Premiere
Performances at the Magik Theatre
Contract Dates: April 18 – June 12, 2022
Child characters are all in 1st grade
May / Mom; any ethnicity

Grace / Miss Chris / Grandma; Black

Mr. Scary / Dad; any ethnicity

William / Tooth Witch; any ethnicity

Jim / Grandpa / Tooth Witch; any ethnicity

Paulie Allen Puffer / Tooth Witch; any ethnicity
About the show: One of Junie B. Jones's top front teeth is loose! Only Junie B. is not that thrilled about this development because what if she looks like toothless Uncle Lou? And even worse – what's all this tooth fairy business? Meanwhile, that meanie Jim has invited everyone in Room Nine to his birthday party on Saturday except Junie B.! Should she have her own birthday party six months early and not invite Jim? Or should she move to It's a Small World After All in Disneyland?