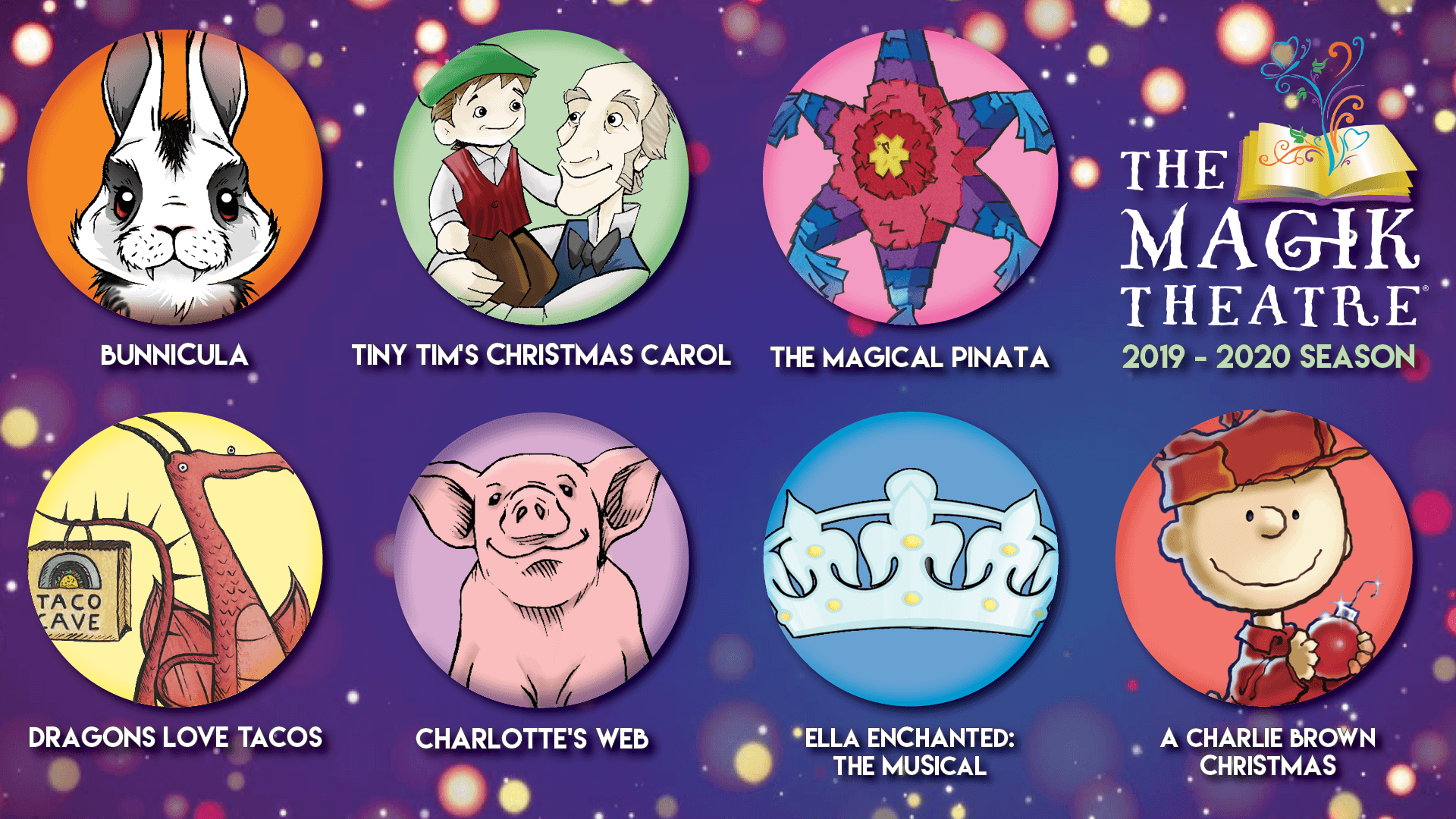 Bunnicula
Book by Jon Klein, music by Chris Jeffries, based on the book by James and Deborah Howe
October 11, 2019 – November 1, 2019
Recommended for ages 5+
A dancing cat, a howling dog, and a vampire bunny − the perfect pet combination for any family. It is a dark and stormy night and Chester (the family cat) and Harold (the family dog) sit waiting for their owners to return from a movie. When the Monroes arrive home, they bring a bunny that they found abandoned in the theater. But this is no ordinary rabbit –  this is the extraordinary Bunnicula! When the family's vegetables start turning white, Chester thinks he knows what's causing this fantastical phenomenon… Bunnicula is a vampire! Don't miss this quick-paced musical as these furry friends sing and dance their way through a hilarious mystery, finding room in their hearts and their home for one very unique bunny.
Tiny Tim's Christmas Carol
Book and lyrics by Ken Ludwig and Jack Ludwig, based on A Christmas Carol by Charles Dickens
November 19, 2019 – December 19, 2019
Recommended for all ages
Tiny Tim longs to have his father home on Christmas day, but mean old Mr. Scrooge won't give Bob Crachit the day off! There must be a way to change Scrooge's mind – perhaps a ghost or two will set Scrooge right. Can this clever boy and his best friend Charlotte save Christmas and change the heart of the meanest man in town? With a little help from some kindly sellers at the market and a touch of Christmas magic, anything is possible. Adapted from the classic Charles Dickens' novel, Tony Award winner Ken Ludwig and his son, Jack Ludwig, write this heartwarming Christmas tale that is sure to delight all ages.
The Magical Piñata
Book and lyrics by Karen Zacarías, music by Deborah Wicks La Puma
January 24, 2020 – February 15, 2020
Recommended for ages 5-8
A seemingly plain clay pot magically transports Cucha, a selfish and lonely girl, from her hometown of Zapoteco, Mexico, to a mysterious jungle filled with eccentric characters. Using her knowledge of both English and Spanish, Cucha encounters Parrot Rivera, a jungle muralist who paints the future; Señor Chapulin, a soccer star with the heart of the present; and Burro Burrito, a farmer who plows through the past. Meanwhile, the evil Monkey King and his silly sidekick know the clay pot is really a magical piñata and scheme to steal it from Cucha. Through Cucha's journey, she discovers the magic of the mundane, the roots of cultural pride, and the power of sharing.
Dragons Love Tacos
Book by Ernie Nolan, music by Chris LaPorte, based on the book by Adam Rubin and illustrated by Daniel Salmieri
March 6, 2020 – April 4, 2020
Recommended for ages 3 – 10
You know what dragons really love? Tacos of course! They love chicken tacos, beef tacos, great big tacos, and teeny tiny tacos. While a boy and his dog are watching TV, they unexpectedly learn the 'Do's and Dont's' of what kinds of tacos to serve dragons. Unfortunately, when the boy throws his new dragon friends a spicy salsa taco party, red-hot trouble ensues! Discover the dietary delights and dilemmas of dragons in this fun-filled production, adapted from The New York Times Best Selling book. Dragons Love Tacos is a sizzling story full of fiery fun for your entire family!

Charlotte's Web
Adapted by Joseph Robinette, based on the book by E.B. White
May 1, 2020 – June 6, 2020
Recommended for ages 4+
Wilbur may be the runt of the litter, but he's a rambunctious, lively, and lovable little pig who captures the heart of a little girl, Fern Arable. Fern is heartbroken when her piglet grows too big and is sent to reside on a farm owned by her uncle. When Fern learns of his eventual fate, it's up to a wise and kind-hearted spider named Charlotte to hatch a plan to save him. Charlotte's Web is based on E.B. White's inspiring story that explores bravery, selfless love, and the true meaning of friendship.
A Charlie Brown Christmas*
December 12 – 15, 2019
The Charline McCombs Empire Theatre
December 21 – 24, 2019
The Magik Theatre
The Magik Theatre returns with our 5th annual production of A Charlie Brown Christmas! The classic animated television special comes to life in this faithful stage adaptation, in which Charlie Brown, Snoopy, and the rest of the Peanuts Gang discover the true meaning of Christmas.
When Charlie Brown complains about the overwhelming materialism he sees among everyone during the Christmas season, Lucy suggests that he become director of the school Christmas pageant. Charlie Brown accepts, but this proves to be a frustrating endeavor. When an attempt to restore the proper holiday spirit with a forlorn little Christmas fir tree fails, he needs Linus' help to discover the real meaning of Christmas.
*Special engagement at the Empire Theatre – included only as an option in the 6-show subscription pass
SPECIAL HOLIDAY EVENT – Subscribers can purchase tickets at a 20% discount

Ella Enchanted: The Musical*
Book by Karen Zacarías, music by Deborah Wicks La Puma, adapted from the book by Gail Carson Levine
June 25, 2020 – July 5, 2020
The Charline McCombs Empire Theatre
Recommended for ages 5+
Ella of Frell is turning the traditional Cinderella story upside down. At birth, she was given the "gift" of obedience by her misguided fairy godmother. But as a teenager, strong-willed Ella chooses to reject her fate and embarks on a quest to break the curse forever. Through her adventures, Ella must outwit evil stepsisters, escape hungry ogres, and save the prince before she can claim her real voice. Ella Enchanted: The Musical is a fairy tale about self-empowerment, perseverance in the face of insurmountable obstacles, and an eagerness to learn. Don't miss this heart-warming and powerful tale that will encourage children of all ages to discover the power of words – within their own voice.
*Special 2-act production at the Empire Theatre – included only as an option in the 6-show subscription pass
6-Show subscriptions include your choice of either Ella Enchanted: The Musical or A Charlie Brown Christmas at the Empire Theatre