2018 Spring Break Camp will take place March 12 – 16, 2018 at The Magik Theatre (Downtown) and the Magik Performing Arts Center (IH 10/De Zavala).
Classes for children age 5 and up will run from 9:00 AM to 3:00 PM. All full-day campers must bring a lunch in a bag clearly marked with the child's name. Please do not send lunches that must be heated or refrigerated as these facilities are not available to campers.
Camp programming for children age 3.5 to 5 is available at the Magik Performing Arts Center only and will run a half day, 9:00 AM – 12:00 Noon.
All campers will be provided with a snack and one beverage during the day. Children may bring additional snacks if necessary. The Magik Theatre will do our best to reasonably accommodate allergies.
Typical Daily Schedule:
8:45 – 9:00 AM Drop Off
9:00 – 9:30 AM Warm-ups
9:30 – 11:30 AM Classroom
11:30 – 12:30 PM Lunch/Outdoor Recess
12:30 – 2:45 PM Classroom
2:45 – 3:00 PM Snack/Reflection
3:00 – 3:15 PM Pick Up
How to Register
See below for a complete list of classes, and click the button below to register. If you would like to register over the phone please call us at 210.227.2751.
Please note: We are using a new registration system. Use this "How to Register" guide for step-by-step instructions.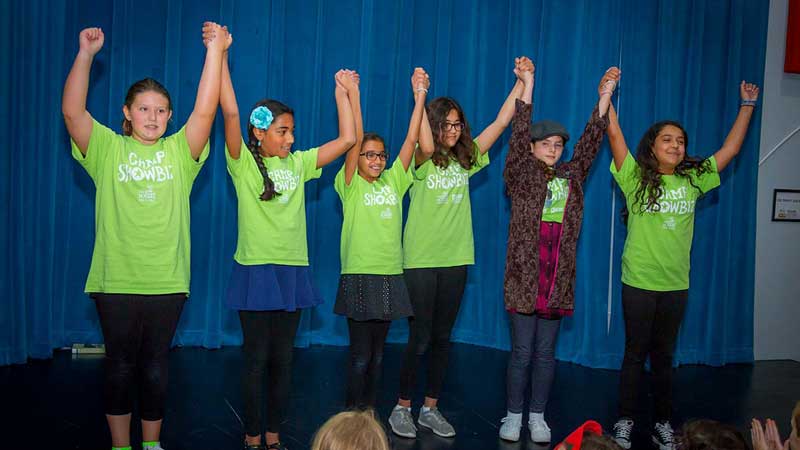 The camp rates listed include:
one camp shirt,

admission to see a performance with our mainstage or touring company,

tuition for the length of chosen camp. Balance due before the end of camp.
Extended care may be purchased separately.
Tuition paid in full is subject to a refund up to two (2) weeks before the session begins. Following that time, all tuition is non-refundable.
Full-Day Camp – Ages 5 – 17
Spring Break Camp $275 (this amount includes the $50 non-refundable administrative fee)
Half-Day Camp – Ages 3.5 – 5 only
Imagination Station Camp $190 (this amount includes the $50 non-refundable administrative fee)
We are offering an Early Bird Discount for $25 off the price of each camp from now until Friday, February 26, 2018.
Limited scholarship funding is available. Please download and complete the Scholarship Application. Email applications to education@magiktheatre.org Please do not mail applications.
The deadline to submit an application is February 28, 2018 by 5 PM. Late or incomplete applications will not be considered.  
Extended care will be available from 8:00 a.m. to 9:00 a.m. and from 3:30 p.m. to 5:30 p.m. Morning extended care will consist of quiet drawing and reading. Monday through Friday in the afternoons, campers will participate in art projects, theatre games, board game competitions, or a movie selected by the Education Coordinator or Director of Education. Afternoon extended care is not available for half day campers, and will not be held on the last day of camp which is showcase day.
Extended Care Flat Rate
Extended care morning rate $25/child
Extended care afternoon rate $50/child
Extended care combined morning and afternoon rate $65/child
If you have an unforeseen circumstance and will be running late in the afternoon, please call ahead and we will place your child in Extended Care until you arrive. Hourly care is $10 per hour per child and must be paid in cash or check upon pick-up or drop-off.